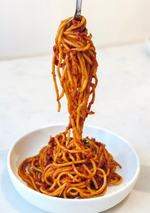 Ingredients
1 jar of Ciao Pappy Marinara Classico
8oz "guanciale" pork chopped in ¼ inch cubes
10oz cherry tomatoes, diced in quarters
½ tsp crushed hot red pepper flakes
4 cloves of garlic, peeled and chopped
½ cup red wine (medium to heavy body preferred)
10oz cherry tomatoes, diced in quarters
2 tbsp extra virgin olive oil
¾ cup freshly grated pecorino Romano cheese
sea salt to taste
1 lb bucatini
fresh basil leaves, finely chopped for garnish
Directions 
Heat olive oil over medium heat; add the guanciale and sauté until crisp. Remove the guanciale and drain on a paper towel lined plate.
Wipe away any burnt bits from the pan and add the red pepper flakes, garlic and fresh tomatoes. Cook for 2 minutes at low temperature. Turn off the heat and add the red wine, stirring well.
Add Ciao Pappy Marinara Classico and bring to a simmer for at least 5-6 minutes. Add salt, pepper, and oil to taste.
Boil the pasta in salted water in a large pot until cooked "al dente." Drain and put back in the pot. Pour the sauce on the pasta and stir until combined.
Sprinkle half of the cheese into the pot, as well as half of the cooked guanciale. Stir the mixture over low flame for about a minute, until completely combined.
Prepare your dish by placing the desired amount of pasta on the serving plate and sprinkle with pecorino Romano cheese, the remaining guanciale and finally the basil garnish. Serve hot.
serves 4