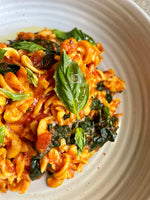 At Ciao Pappy, we're always looking for delicious and nutritious meal ideas that help you eat well without compromising on taste. 
This week, we're excited to introduce you to a delightful combination that's satisfying and packed with health benefits: our Kale Marinara Sauce served over tender Lupii Bean Pasta!
Why You'll Love It:
🌿 Nutrient-Packed Kale: Our marinara sauce combines the classic Italian flavors you love with the goodness of kale. This leafy green superstar is rich in vitamins, minerals, and antioxidants, making it a fantastic addition to your diet.
💪 Protein-Packed Lupini Beans: Lupini beans are a true superfood and packed with plant-based protein.
🍅 Rich Tomato Flavor: Our Classico tomato basil garlic marinara sauce is slow-cooked to perfection. The harmonious blend of tomatoes, herbs, and spices will transport your taste buds to Italy.
Cook Time: 30 Minutes | Serves 2 - 4
INGREDIENTS:
½ box Lupii Rotini
½ jar Ciao Pappy Marinara Classico
2 cloves garlic
½ bunch lacinato kale
2 tbsp olive oil, plus more for topping
Basil for serving
Remove stems from kale and chop into 1-inch pieces. This should result in roughly 2 cups of kale. Thinly slice garlic.
Heat 2 tbsp olive oil in a large skillet over medium. Add garlic slices. Cook until fragrant and beginning to brown at the edges, taking care to stir to avoid burning garlic. Lower heat to medium-low and pour in ½ jar Ciao Pappy Marinara Classico. Stir to distribute garlic and oil evenly. Reduce heat to low.
Bring a large pot of water to a rolling boil and heavily salt. Add Lupii and stir immediately. After 2 minutes, drop kale in the pasta pot to blanch and cook for 30 seconds.
Transfer the cooked pasta and greens to the skillet, using a colander, fine mesh sieve, or slotted spoon to drain. Toss to coat in sauce.
Divide between serving bowls and top with fresh basil and a drizzle of olive oil.
If you're feeling adventurous, try these creative variations with our winning combo:
🌶️ Spice It Up: Add a pinch of red pepper flakes for a spicy kick.
🧀 Creamy Delight: Stir in a dollop of ricotta cheese to make it creamy and indulgent.
🌿 Fresh Greens: Toss in some fresh spinach for extra greens.