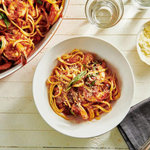 Ingredients
1 jar of Marinara alla Pappy
1lb spaghetti or fettuccini
1 pound large unpeeled shrimp, deveined
2 tsp dried basil
¼ tsp sea salt
2 tbsp butter
fresh Parmesan cheese, for serving
Directions
Thaw the shrimp. When thawed, pat dry.
Bring a large pot of salted water to a boil. Boil the pasta until al dente. Then drain.
In a large skillet, heat the butter on medium high heat. Add the shrimp, basil and sea salt. Cook the shrimp for 1 to 2 minutes per side until almost cooked through, turning them with tongs. Transfer the shrimp from the pan into a bowl.
In same skillet and juices from the pan, add the marinara sauce, scraping any bits off of the bottom of skillet as you stir it together. Bring to a simmer, then cover and cook for 10 minutes.
Add shrimp to the skillet and remove the heat. Serve over pasta and topped with Parmesan cheese (optional) and chopped basil garnish.
serves 4