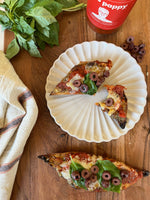 While marinara can be enjoyed year-round, this season is filled with some of our favorite dishes.
If bruschetta and pizza had a baby, this week's recipe would be it. 
We love this take on a classic Italian dish, added with seasonal ingredients such as eggplant, melted cheese, and warmed marinara.
Ready in 30 Minutes | Serves 4
1 jar of Ciao Pappy Marinara
1 Eggplant
1 baguette
6 whole cloves of garlic
1 cup of shredded Parmesan cheese
Salt and Pepper
Olive Oil
Handful of basil
3 tablespoons of Kalamata olives
Directions:
1. Score your eggplant in crisscrosses. Insert whole garlic cloves into the openings and drizzle with olive oil. Bake at 400 degrees until cooked.
2. Slice the baguette in half, long way. Drizzle with olive oil. Remove the garlic and scoop out the inside of the eggplant, spreading onto the baguette.
3. Top with a few tablespoons of Ciao Pappy marinara and top with cheese. Place into your pizza oven and broiler until cheese is melted.
Garnish with basil, olives, and more olive oil…and enjoy!