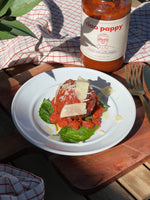 A recipe to impress. These easy (and delicious) arancini balls will be your new favorite dish. Apron on and have fun!
Ingredients 
1 jar of Ciao Pappy marinara
3½ cups low-sodium chicken stock
4 Tbsp. unsalted butter, divided
1 medium onion, finely chopped
2 cloves of garlic, finely crushed
1 cup arborio rice
1½ tsp. kosher salt
½ cup dry white wine
2 tsp. finely grated lemon zest
1 tbsp. fresh lemon juice
1-2 cups finely grated Parmesan
1 tsp. freshly ground black pepper, plus more
2 cups Panko (crushed finely)
½ cup all-purpose flour
2 large eggs
3oz. low-moisture mozzarella, cut into ⅓" pieces
canola oil (for frying; about 6 cups)
Directions
Cook and prepare your risotto (instructions to make risotto can be found at the end of the recipe).
Spread risotto in an even layer on a parchment-lined rimmed baking sheet. Chill at least 1 hour or up to 4 (cover risotto with plastic wrap after 1 hour).
Line another rimmed baking sheet with parchment. Scoop about ¼ cup risotto into your hands and form into a 2" patty. Place 2–3 pieces mozzarella in the center of patty.
Carefully pinch and shape risotto so it completely encases the cheese, then roll into a 2" ball. Place on prepared baking sheet. Repeat with remaining risotto and mozzarella. Freeze rice balls for 10 minutes.
Place crushed panko into a shallow bowl. Place flour into another shallow bowl. Lightly beat eggs into a third shallow bowl. Season all bowls with salt and pepper. One at a time, roll the arancini into flour, egg, and finally coat with panko crumbs and gently press to adhere. Transfer coated balls to parchment lined baking sheet while you heat your oil (about 2" in depth) on medium heat.
Lower half of the rice balls into oil with a slotted spoon until deeply golden brown (6-8 minutes). Transfer to paper towels to drain, season with salt. Repeat with remaining rice balls.
Plate your arancini and top with warm Ciao Pappy Marinara. Buon appetito!
Making your risotto
Bring stock to a simmer in a medium pot over medium heat, then keep warm over low.
Heat 2 Tbsp. butter in a medium saucepan over medium. Add onion and cook, stirring often, until softened but not browned, 4–5 minutes. Add garlic and cook, stirring constantly, until softened but not browned, about 1 more minute.
Stir in rice; season with 1½ tsp. salt. Cook, stirring often, until some of the grains turn translucent around the edges, about 3 minutes. Add wine and cook, stirring often, until pan is almost dry, about 2 minutes. Ladle in 1 cup warm stock, bring to a simmer, and cook, stirring often, until liquid is absorbed, about 4 minutes. Ladle in another 1 cup stock and continue to cook, stirring yet again, until most of the liquid is absorbed, 5–7 minutes. Add remaining 1½ cups stock and cook, stirring often, until rice is cooked through but toothsome and liquid is mostly absorbed, 9–11 minutes longer. Remove from heat. Stir in Parmesan, lemon zest, lemon juice, 1 tsp. pepper, and remaining 2 Tbsp. butter. Season risotto with salt.