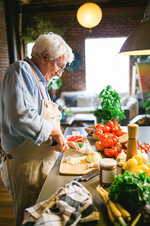 Before we started Ciao Pappy, we wanted to get customer feedback on our product, flavors, and brand. We decided to run a one-month charity drive where 100% of the proceeds were donated towards charity. To our surprise, we sold nearly 500 jars of sauce and supported a cause near and dear to our hearts: the aging community.

Each month, we will spotlight an older adult with a story to tell in our "Older and Bolder" series. We hope to bring awareness, visibility, and relevance to this demographic, reminding us of their value to our lives culturally, personally, and professionally.

Kicking it off is Pappy.

Aside from being the mascot on our label, Pappy's personal story inspired us to align with this particular cause.

After immigrating to the US, Pappy established an import company in 1987. After 20 years in the business, he sold the company and was hired as a specialist in his field. Six years later and just shy of his 60th birthday, he was laid off.

New job opportunities continually went to younger and "faster" candidates, and ultimately, he returned to Italy. Following a lifetime of hard work, this wasn't how he imagined entering into retirement.

However, aging has inspired reinvention.
He's leaned into his true passions and no longer fears failing; it's more about living. 
With his wisdom, he finds passion in helping others by lending his life experience, including helping us build our business. His contribution in the kitchen and behind the scenes has greatly influenced where we are today. 
These days, he finds true happiness in spending time with his family and friends, gardening, making art, and his favorite hobby, creating magic in the kitchen.
Meet Pappy.
"78% of older workers say they have seen or experienced age discrimination in the workplace, the highest level since 2003."
-AARP